"I drink to make other people more interesting."
– Ernest Hemingway
Where Nostalgia Meets Innovation
As you ascend the stairs, you can tell that this is more than just a bar. It's a place for friends and family to socialize over hand-crafted cocktails and tasty urban comfort food. Liqueurs you didn't know existed blend with ingredients and spirits you love in ways that are nothing less than inspiring.
Welcome to Crafted at NOSE DIVE. Sit back, relax, and sip into something more comfortable.
Crafted at NOSE DIVE.
The term personifies so much of what we want you to experience in our spaces—craft cocktails, handcrafted brews, small batch wines created with care, all served in tandem with the attention to detail our chefs put into sourcing ingredients and executing dishes.
The Best Bar for a Handcrafted Experience
[kraft, krahft] "to make or manufacture (an object, objects, product, etc.) with skill and careful attention to detail."
Everything we do at CRAFTED starts with an idea brought to fruition by skill and attention to detail. The talented mixologists behind the NOSE DIVE bars are blending creative new and old school classic cocktails every day. In addition to handmade cocktails, you'll find a curated list of wines with a story, and beers brewed with love and care by committed brew masters.
The craft concept also expands into the NOSE DIVE kitchen, where ingredient selection and recipe development guide the steps it takes to make each dish the best it can be. See our menus.
The idea of "handcrafted" permeates every aspect of NOSE DIVE. So much so, that when we were searching for a name for our newly updated cocktail lounge, the term "craft", and what it means, came up so much that it was a perfect fit to brand the space.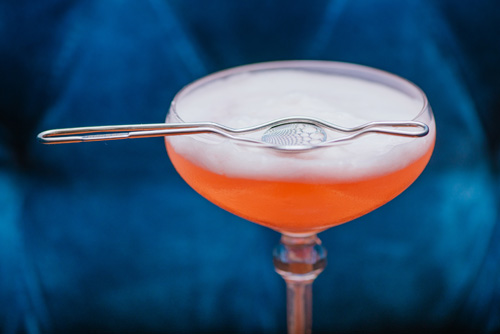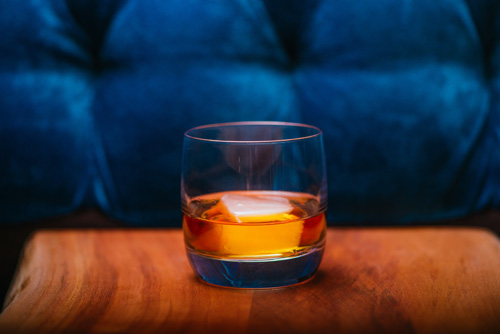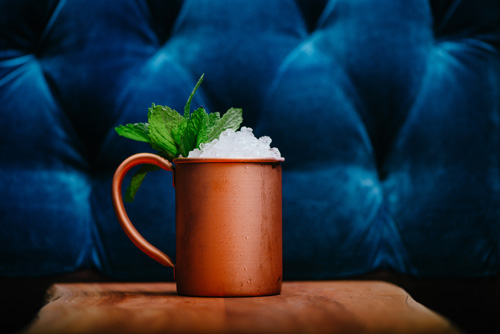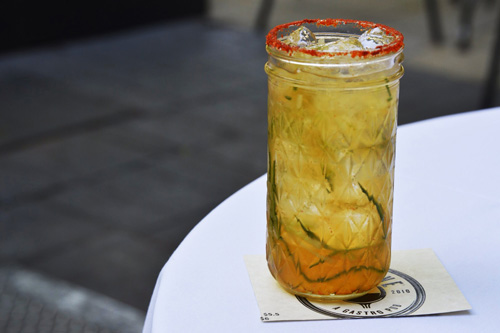 "The problem with the world is that everyone is a few drinks behind." – Humphrey Bogart
The talented mixologists behind the bars are blending creative new and old school classic cocktails every day. Handcrafted with care and commitment.
HONKEY DONKEY – 12
Tito's – Lavender – Ginger – Lemon Juice – Rosemary
Bright, Floral
BEEBEE – 10
Tito's – St.Germain –  Pamplemousses – Bubbles
Crisp, Sweet, Refreshing
DAIQ' TIL DEATH – 15
Plantation OFTD – Plantation Pineapple – Smith and Cross – Lime Juice – Demerara
Bright, Citrusy, Tropical 
BIG KAHUNA – 13
Pineapple Habanero Lunazul – Passionfruit – Poblano – SPJ Hot Mess – Pineapple
Spicy, Refreshing, Fruity 
CHAMPS #2 – 11
Buffalo Trace Bourbon – Lemon Juice – Raspberry – Bubbles
Tart, Fruity, Bubbly
NAKED AND FAMOUS – 13
 Mezcal – Aperol – Yellow Chartreuse – Lemon Juice
 Smokey, Bright, Herbal 
CHAI-NESE NEW YEAR – 10
Chai Whiskey – Montenegro Amaro – Luxardo Amaro – Lemon Juice – Maple
Chai, Spiced, Citrus
LUCKY 13 – 13
Old Tom Gin – Aperol – Cynar 70 – Luxardo Maraschino – Angostura Bitters
Bittersweet, Boozy
THE NUTKRAKKEN – 11
Krakken Dark Rum – Rum Haven Coconut Rum Trader Vic's Macadamia Nut Liqueur
Sweet, Nutty

SMOKEY & THE BANDIT – 14
Bulleit Bourbon – Lagavulin 16 – Benedictine – Allspice Dram
Boozy, Smokey
IRISH DELIGHT – 13
Bushmills – 6&20 Carolina Cream – Demerara – Chocolate Bitters – Coffee – Green Chartreuse Whip
Hot, Herbal, Coffee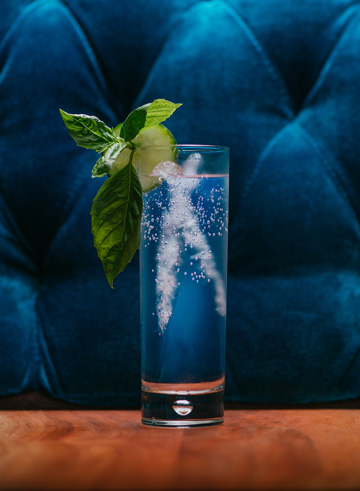 "Sometimes too much to drink is barely enough." – Mark Twain
Old favorites. New favorites. We've got a seat at the bar just waiting for you.
NOSE DIVE Seasonal Cocktails
RIDE YOUR OWN MULE – 10
Ginger beer, Lime juice, and your choice of Van Gogh vodka: Peach, Pineapple, Orange, Raspberry, Acai – Blueberry, Wild Apple
FLOWER CHILD – 10.5
New Amsterdam Gin, Domaine de Canton, Lemon Juice, Lemonbalm Syrup
BLUEBERRY ICE PICK – 10
Tito's, Triple Sec, Blueberry Syrup, and Unsweet Tea
BLOOD PALOMA – 10.5
Lunazul Tequila, Solerno, Grapefruit Juice, Lime Juice, Chili Salt Rim
SMOKEY THE PEAR – 12
St. George Spiced Pear, Montelobos, Cayenne Syrup, Lemon Juice
PINK CADILLAC – 10
Jaquin's Apricot Brandy, Triple Sec, Bitters, Lemon Juice, Simple Syrup
… BABY, ONE MORE CHAI – 9
Chai-Infused Evan Williams, Lime Juice, Simple Syrup
UPTOWN GIRL -12
Elijah Craig Small Batch, Antica Sweet Vermouth, Peychauds, Macerated Strawberries
BOURBON-BASIL SMASH – 9
Elijah Craig Small Batch Bourbon, Muddled Lemon, Sugar, Basil
MOCKTAILS
CINNAMON APPLETINI – 7
Apple Cider, Ginger Beer, Lemon Juice
RASPBERRY FIZZ – 7
Lemon Juice, Raspberries, Saratoga
BLUEBERRY MOJITO – 7
Lemon Juice, Saratoga, Mint, Blueberries
NOSE DIVE Whiskeys
JAMESON – 7
JIM BEAM  – 7
PENDLETON – 7
BUFFALO TRACE – 8
CROWN ROYAL – 8
DEWARS – 8
JACK DANIELS – 8
LARCENY – 8
BULLEIT – 9
BULLEIT RYE – 9
ELIJAH CRAIG – 9
MAKER'S MARK – 9
6&20 "OLD MONEY" – 9
6&20 "5 Grain" – 9
TEMPLETON RYE – 9
WOODFORD RESERVE – 9
BELLE MEADE – 10
GLENMORANGIE 10 –10
GLENLIVET 12 – 10
KNOB CREEK – 10
MICHTER'S –10
BALVENIE 12 – 11
MACALLAN 12 – 12
TABLE 301 MAKER'S MARK –17
BOOKERS  (When Available) –18 
LAGAVULIN 16 – 19
   All whiskeys are 2oz pours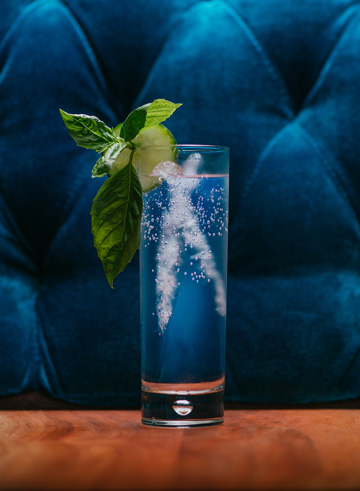 "Everybody's got to believe in something. I believe I'll have another beer." – W.C. Fields
"Handcrafted", "Microbrew", "High Gravity", "Regional", "Cult Favorite", "Small Batch". All terms that mean we've put a lot of time and effort into crafting our beer list with beers that we know you'll love. The list has some brews you've heard of and some you haven't—but will want to try.
We feature CRAFT BREWS highlighting seasonal and specialty offerings. Our DRAFT selections change daily, so ask your server or check out the board for today's choices and prices! In the meantime, check out our BOTTLES & CANS below!
Light Beers
BUD LIGHT 110 calories I 4
MICHELOB ULTRA  95 calories I 4
MILLER LITE 96 calories I 4
Belgian Styles
ALLAGASH WHITE Belgian Wit, Portland, ME I 5.2% I 6
REVELRY HOTEL RENDEZVOUS Hefeweizen, Charleston, SC l 4.3% l 7
STELLA ARTOIS Belgian Lager, Leuven, Belgium I 5.2% I 5
WESTBROOK WHITE THAI Belgian Wit, MT. Pleasant, SC I 5% I 5.5
Lagers & Pilsners
BUDWEISER ST. Louis, MO I 5% I 4
CORONA EXTRA Mexico City, Mexico I 4.6% I 4.5
KALIBER (non-alcoholic) Dublin, Ireland I 4
PABST BLUE RIBBON (24oz) Los Angeles, CA I 4.47% I 4
YUENGLING Pottsville, PA I 4.4% I 4
Ales
ANDERSON VALLEY BOONT Amber Ale, Booneville, CA l 5.8% l 7
BELL'S TWO HEARTED IPA, Kalamazoo, MI I 7.2% I 6
HIGHLAND DAYCATION Session IPA, Asheville, NC l 4.9% l 5.5
NEW PLANET PALE ALE (GF) Denver, CO l 5.3% l 6.5
NEW PLANET TREAD LIGHTLY (GF) Ale, Denver, CO l 4.9% l 6
SAM SMITH NUT BROWN English Brown Ale, N. Yorks, England l 5% l 8
SECOND SELF A.T. ALE APA, Atlanta, GA l 5.7% l 5.5
WESTBROOK ONE CLAW Rye Pale Ale, MT. Pleasant, SC l 5.5%l 5.5
WESTBROOK TWO CLAW Rye Pale Ale, MT. Pleasant, SC l 7% l 7.5
Wheats/Ciders/Sours
BOLD ROCK CIDER (GF) Nellysford, VA I 4.7% I 5.5
MCKENZIE'S APPLE CIDER (GF) West Seneca, NY I 6% I 5
STIEGL GRAPEFRUIT RADLER (16oz) Salzburg, Austria I 2.5% I 7
WESTBROOK GOSE MT. Pleasant, SC I 4% I 6
Stouts & Porters
FOUNDERS BREAKFAST STOUT Grand RApids, MI I 8.3% I 7
GUINNESS DRAUGHT Dublin, Ireland I 4.1% I 5.5
KENTUCKY BOURBON BARREL ALE Lexington, KY I 8.2% I 10
*Please note that we update and change this offering frequently, so we've included the list above to give you an idea of what to expect when you visit the restaurant. No doubt you'll find new and interesting choices when you arrive.
"Good wine is a necessity of life for me." –Thomas Jefferson
Wine lovers have a place at the table as well – with a carefully constructed wine list filled with interesting selections and unique offerings.
Bubbles – gls/btl
BIUTIFUL – 9 / 34
Brut Nature Cava, Cava, Spain
GRAN SELLO  – 10 / 38
Brut Rose, Spain
MOËT & CHANDON IMPERIAL BRUT MINI – /15
(187ml Bottle) Champagne, Champagne, France
Rosé
BARNARD GRIFFIN – 10 / 38
(2017) Rose of Sangiovese, Richland, Washington
Whites
DR LOOSEN –  8 / 30
(2017) Dry Riesling, Mosel, Germany
BANFI – 7.5 / 28
(2018)  Pinot Grigio, Montalcino, Italy
HAYMAKER – 9 / 34
(2018)  Sauvignon Blanc, Marlborough, New Zealand
SALMON RUN BLEND – 8 / 30
(2017) Chardonnay-Riesling Blend, Finger Lakes, NY
SEA SUN – 9 / 34
(2016) Chardonnay, California
NOAH RIVER – 11.5 / 42
(2016)  Chardonnay, California
Reds – gls/btl
LIGHT HORSE – 9 / 34
(2016)  Pinot Noir, California
BLOCK NINE –10 / 38
(2017)  Pinot Noir, California
HEDGES "CMS" – 10 / 38
(2015)  Merlot-Cab. Blend, Columbia Valley, Washington
AMAYAN – 9 / 34
(2015)  Malbec, Mendoza, Argentina
SLEDGEHAMMER – 9 / 34
(2016) Cabernet Sauvignon, Napa, California
GLENELLY ESTATE – 10 / 38
(2016) Cabernet Sauvignon, Stellenbosch, South Africa
FOLIE A DEUX – 13 / 49
(2014) Dry Creek Zinfandel, Sonoma, California
Premium Bottles
Ask your server to see our premium bottle list to help celebrate a special occasion or just a fun date night!
**All vintages subject to change
"Everybody's got to believe in something. I believe I'll have another beer." – W.C. Fields
Happy Hour at NOSE DIVE
Whether you're winding down a work day or kicking off a night out, it doesn't get much better than the Happy Hour Specials at NOSE DIVE. Special prices good from 4pm- 6:00pm, Monday – Friday. Available in Crafted (upstairs at NOSE DIVE) and at the Chef's Bar downstairs only. Call, email, tweet, facebook – you don't want your friends to miss out!
$4 Select Draft Beers

$5 Featured Wines
$6 Daily Cocktail Specials
$7 Appetizers (choose from below)
Duck Fat Potatoes
Crispy Marbled Potatoes, Shaved Aged Gouda, Roasted Garlic-Duck Fat Aioli, Crispy Leeks
Soft Baked Pretzel Sticks
Pepper Jack Cheese Fondue, Lusty Monk Mustard
Pulled Port Tacos – GF
Lusty Monk-Vinegar Slaw, Fried Onion Straws, Avocado Crema, Cilantro