"I drink to make other people more interesting."
– Ernest Hemingway
NOSE DIVE offers a curated selection of seasonal cocktails, craft brews and curated wines – all perfect pairings for our urban comfort food menu.
Crafted. A Cocktail Bar.

Our sister cocktail bar, located above NOSE DIVE. Crafted is the perfect place for that "before dinner" cocktail, to meet friends or have a night cap. When you sit down at Crafted, you'll find the cornerstone of their approach to bartending and cocktail culture – the classics. We hope you'll stop in soon to enjoy a new cocktail, try a spirit or indulge in a classic favorite. Open Monday through Thursday 4pm until 9pm; Friday & Saturday 4pm until 10pm. CraftedGVL.com
"Sometimes too much to drink is barely enough." – Mark Twain
Old favorites. New favorites. We've got a seat at the bar just waiting for you.
NOSE DIVE Seasonal Cocktails
RIDE YOUR OWN MULE – 9
Ginger beer, Lime juice, and your choice of Van Gogh vodka: Peach, Pineapple, Orange, Raspberry, Acai – Blueberry, Wild Apple
ISN'T SHE LOVELY –  10
Aperol, St. Elderflower, Brute Rose
GREENVILLE SUNSET –  10
Orange Van Gogh Vodka, Triple Sec, Orange Juice, Grenadine
PEAR PALOMA – 10.5
Lunazul Tequila, St. George Spiced Pear, Grapefruit Juice, Lime Juice, Simple Syrup, IPA, Chili Rim
PINK CADILLAC –  10
Tito's Vodka, Jaquin's Apricot Brandy, Triple Sec, Lemon Juice, Simple Syrup
COOL AS A CUCUMBER – 9
New Amsterdam Gin, Mint, Lime Juice, Cucumber Slices
UPTOWN GIRL – 12
Elijah Craig Small Batch, Peychaud's Bitters, Antica Sweet Vermouth, Macerated Strawberries
BOURBON-BASIL SMASH – 9
Elijah Craig Small Batch Bourbon, Muddled Lemon, Sugar, Basil
NOSE DIVE Whiskeys
JAMESON – 7
JIM BEAM  – 7
PENDLETON – 7
BUFFALO TRACE – 8
CROWN ROYAL – 8
DEWARS – 8
JACK DANIELS – 8
LARCENY – 8
BULLEIT – 9
BULLEIT RYE – 9
ELIJAH CRAIG – 9
MAKER'S MARK – 9
6&20 "OLD MONEY" – 9
6&20 "5 Grain" – 9
TEMPLETON RYE – 9
WOODFORD RESERVE – 9
BELLE MEADE – 10
GLENMORANGIE 10 –10
GLENLIVET 12 – 10
KNOB CREEK – 10
MICHTER'S –10
BALVENIE 12 – 11
MACALLAN 12 – 12
TABLE 301 MAKER'S MARK –17
BOOKERS  (When Available) –18 
LAGAVULIN 16 – 19
   All whiskeys are 2oz pours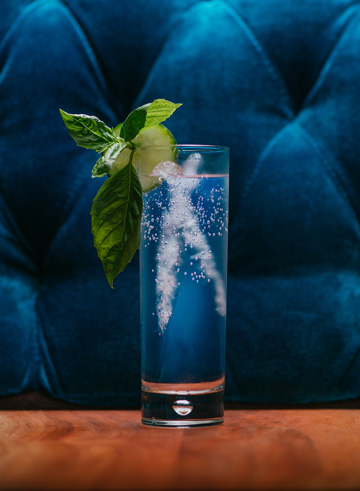 "Everybody's got to believe in something. I believe I'll have another beer." – W.C. Fields
"Handcrafted", "Microbrew", "High Gravity", "Regional", "Cult Favorite", "Small Batch". All terms that mean we've put a lot of time and effort into crafting our beer list with beers that we know you'll love. The list has some brews you've heard of and some you haven't—but will want to try.
We feature CRAFT BREWS highlighting seasonal and specialty offerings. Our DRAFT selections change daily, so ask your server or check out the board for today's choices and prices! In the meantime, check out our BOTTLES & CANS below!
Light Beers
BUD LIGHT 110 calories I 4
MICHELOB ULTRA  95 calories I 4
MILLER LITE 96 calories I 4
Belgian Styles
ALLAGASH WHITE Belgian Wit, Portland, ME I 5.2% I 6
MUNKLE GULLY WASHER Wheat Ale, Charleston,SC l 5.2% l 6
STELLA ARTOIS Belgian Lager, Leuven, Belgium I 5.2% I 5
WESTBROOK WHITE THAI Belgian Wit, MT. Pleasant, SC I 5% I 5.5
Lagers & Pilsners
BUDWEISER ST. Louis, MO I 5% I 4
CORONA EXTRA Mexico City, Mexico I 4.6% I 4.5
KALIBER (non-alcoholic) Dublin, Ireland I 4
PABST BLUE RIBBON (24oz) Los Angeles, CA I 4.47% I 4
YUENGLING Pottsville, PA I 4.4% I 4
Ales
BELL'S TWO HEARTED IPA, Kalamazoo, MI I 7.2% I 6
NEW PLANET PALE ALE (GF) Denver, CO l 5.3% l 6.5
NEW PLANET TREAD LIGHTLY (GF) Ale, Denver, CO l 4.9% l 6
SAM SMITH NUT BROWN English Brown Ale, N. Yorks, England l 5% l 8
WESTBROOK ONE CLAW Rye Pale Ale, MT. Pleasant, SC l 5.5%l 5.5
FOUNDERS ALL DAY IPA American IPA, Grand Rapids, MI l 4.7%l 5.5

Wheats/Ciders/Sours
BOLD ROCK CIDER (GF) Nellysford, VA I 4.7% I 5.5
MCKENZIE'S APPLE CIDER (GF) West Seneca, NY I 5.5% I 5
STIEGL GRAPEFRUIT RADLER (16oz) Salzburg, Austria I 2.5% I 7
WESTBROOK GOSE MT. Pleasant, SC I 4% I 6
Stouts & Porters
FOUNDERS BREAKFAST STOUT Grand Rapids, MI I 8.3% I 7
GUINNESS DRAUGHT Dublin, Ireland I 4.1% I 5.5
KENTUCKY BOURBON BARREL ALE Lexington, KY I 8.2% I 10
*Please note that we update and change this offering frequently, so we've included the list above to give you an idea of what to expect when you visit the restaurant. No doubt you'll find new and interesting choices when you arrive.
"Good wine is a necessity of life for me." –Thomas Jefferson
Wine lovers have a place at the table as well – with a carefully constructed wine list filled with interesting selections and unique offerings.
Bubbles – gls/btl
BIUTIFUL – 9 / 34
Brut Nature Cava, Cava, Spain
GRAN SELLO  – 10 / 38
Brut Rose, Spain
MOËT & CHANDON IMPERIAL BRUT MINI – /15
(187ml Bottle) Champagne, Champagne, France
Rosé
BPF BIELER – 9 / 34
(2019) Aix-en-Provence, France
Whites
DR LOOSEN –  8 / 30
(2019) Dry Riesling, Mosel, Germany
BANFI – 7.5 / 28
(2019)  Pinot Grigio, Montalcino, Italy
PONGA- 9 / 34
(2020)  Sauvignon Blanc, Marlborough, New Zealand
SALMON RUN BLEND – 8 / 30
(2019) Chardonnay-Riesling Blend, Finger Lakes, NY
SEA SUN – 9 / 34
(2018) Chardonnay, California
NOAH RIVER – 11.5 / 42
(2018)  Chardonnay, California
Reds – gls/btl
LIGHT HORSE – 9 / 34
(2018)  Pinot Noir, California
BLOCK NINE –10 / 38
(2019)  Pinot Noir, California
HEDGES "CMS" – 10 / 38
(2018)  Merlot-Cab. Blend, Columbia Valley, Washington
TURNO DE NOCHE- 9 / 34
(2018)  Malbec, Mendoza, Argentina
SLEDGEHAMMER – 9 / 34
(2019) Cabernet Sauvignon, Napa, California
GLENELLY ESTATE – 10 / 38
(2018) Cabernet Sauvignon, Stellenbosch, South Africa
SPELLBOUND – 9 / 34
(2017) Merlot, Napa Valley, California
Premium Bottles
Ask your server to see our premium bottle list to help celebrate a special occasion or just a fun date night!
**All vintages subject to change
"The problem with the world is that everyone is a few drinks behind." – Humphrey Bogart
The talented bartenders at Crafted (located above NOSE DIVE) are blending creative new and old school classic cocktails every day. Handcrafted with care and commitment.
CLASSIC COCKTAILS
$11
NEGRONI
Broker's London Dry, Campari, Carpano Antica Sweet Vermouth
GIMLET
Broker's London Dry, House-made Lime Cordial
GOLDRUSH
Four Roses, Lemon, Honey
MANHATTAN
Rittenhouse Rye, Carpano Antica Sweet Vermouth, Angostura Bitters
MAI TAI
Appleton Estate, House-made Orgeat*, Lime, Grand Marnier
DAIQUIRI
Plantation 3 Stars, Lime, Sugar
OAXACA OLD FASHIONED
Lunazul Reposado, Montelobos Mezcal, Agave, Angostura Bitters
MARGARITA
Lunazul Blanco, Triple Sec, Lime, Simple
SIGNATURE COCKTAILS
ACROSS THE BORDERLINE 14
Lunazul Anejo, House Amaro, Carpano Antica, House Chocolate Chili Bitters
SIMONE, POST SHIFT 13
Corralejo Blanco, Campari, Cucumber, Lime, Simple
GRAND ST. 13
Tanqueray, Amaro Montenegro, Cocchi Americano, Carpano Antica
ALL ROADS LEAD TO HANA 13
The Botanist, Aperol, Lemon, Peychauds, Angostura, Egg White**
SUNNY TODAY, GREY TOMORROW 13
Bulleit Rye, Braulio Amaro Alpino, Smoked Rosemary
PALOMINO 14
Elijah Craig, Methodical Cold Brew, House Orgeat*, Dolin Dry, Pastis, Egg White**
ACHTUNG BABY 12
Plantation 3 Stars, Smith and Cross, Cocchi Rosa, Lemon, Honey, House Garden Bitters
DEDICATION PAGE 13
Rhum J.M., Appleton Estate, Pineapple, Demerara, Southern Pressed Juicery Fresh Ginger
*This item contains almonds, please inform your server/bartender of any allergies **Consuming raw or undercooked meat, seafood or egg products can increase your risk of foodborne illness
CRAFTED WINE & BEER LIST
WINES
WHITE, ROSE & SPARKLING glass/bottle
BIUTIFUL 9 / 34
Brut Nature Cava, Cava, Spain
DR LOOSEN (2020) 8 / 30
Dry Riesling, Mosel, Germany
BANFI (2019) 7.5 / 28
Pinot Grigio, Montalcino, Italy
NOAH RIVER (2018) 11.5 / 42
Chardonnay, California
BPF BIELER (2019) 9 / 34
Aiex-en-Provence, France
REDS
BLOCK NINE (2019) 10 / 38
Pinot Noir, California
GLENELLY ESTATE (2018) 10 / 38
Cabernet Sauvignon, Stellenbosch, South Africa
SPELLBOUND (2017) 9 / 34
Merlot, Napa, California
TURNO DE NOCHE (2018) 13 / 49
Malbec, Mendoza, Argentina
BEER
Draft
Columbia Craft, Lager 4.8% $8
Columbia Craft, Rotating Sour 5% $8
Hi-Wire, Lo-Pitch IPA 5.5% $8
Catawba Brewing, White Zombie 4.7% $8
Legal Remedy, Lawdog Amber Lager 4.6% $8
Wild Leap, Local Gold 5.4% $8
Can
Westbrook, One Claw, 5.5%  6
Westbrook, Gose, 4%  6
Edmunds Oast, Seasonal Sour, 6.5%  8
Amor Artis, Spring's Golf Lager, 4.5%  5
Amor Artis, Cruisin' Down the Street in My '64, 6.4%
Palmetto Brewery, Amber Ale, 5.8%  6
Wild Leap, ETA IPA, 7.5%  6