"I drink to make other people more interesting."
– Ernest Hemingway
Where Nostalgia Meets Innovation
As you ascend the stairs, you can tell that this is more than just a bar. It's a place for friends and family to socialize over hand-crafted cocktails and tasty urban comfort food. Liqueurs you didn't know existed blend with ingredients and spirits you love in ways that are nothing less than inspiring.
Welcome to Crafted at NOSE DIVE. Sit back, relax, and sip into something more comfortable.
Crafted at NOSE DIVE.
The term personifies so much of what we want you to experience in our spaces—craft cocktails, handcrafted brews, small batch wines created with care, all served in tandem with the attention to detail our chefs put into sourcing ingredients and executing dishes.
The Best Bar for a Handcrafted Experience
[kraft, krahft] "to make or manufacture (an object, objects, product, etc.) with skill and careful attention to detail."
Everything we do at CRAFTED starts with an idea brought to fruition by skill and attention to detail. The talented mixologists behind the NOSE DIVE bars are blending creative new and old school classic cocktails every day. In addition to handmade cocktails, you'll find a curated list of wines with a story, and beers brewed with love and care by committed brew masters.
The craft concept also expands into the NOSE DIVE kitchen, where ingredient selection and recipe development guide the steps it takes to make each dish the best it can be. See our menus.
The idea of "handcrafted" permeates every aspect of NOSE DIVE. So much so, that when we were searching for a name for our newly updated cocktail lounge, the term "craft", and what it means, came up so much that it was a perfect fit to brand the space.
"The problem with the world is that everyone is a few drinks behind." – Humphrey Bogart
The talented mixologists behind the bars are blending creative new and old school classic cocktails every day. Handcrafted with care and commitment.
CRAFTED Seasonal Cocktails
ROSE NYLAND     9
fireball, rayon sauvignon blanc, lemon rose syrup
POISON IVY     8
amaro di angostura, crème de menthe, lime, simple syrup
FUNKY POPE     12
caravela limoncello, green chartreuse, benedictine, absinthe-soaked flaming lemon twist
LEXIE-LEMONADE     11
new amsterdam gin, yellow chartreuse, lillet blanc, lemon
SPRINGTIME IN PROVENCE     11
the botanist gin, sparkling wine, cremé de violet, lavender-rosemary syrup, bitters
MELON DELIGHT     10
tito's handmade vodka, seasonal melon purée, seasonal bitters, triple sec
THE POINSETT HOTEL    11
tito's handmade vodka, st. germaine, grapefruit, cucumber, luxardo
MISSY MIGAS    11
casamigas blanco tequila, spj* hot mess juice, cayenne simple syrup, soda
*spj-Southern Pressed Juicery, 2 Washington Street
MEXICAN FIRING SQUAD     10
casa noble tequila, hibiscus, ancho reyes chili licor, lime
MEXICAN IN MANHATTAN     11
hornitos black barrel tequila, ancho reyes chile liqueur, dolin sweet vermouth
HOTEL NATIONAL      10
kraken black spiced rum, apricot brandy, pineapple, lime, cinnamon simple syrup
MAI-TAI     9
bacardi silver rum, captain morgan spiced rum, orgeat, triple sec, lime
THE GREAT ONE    10
pendleton canadian whiskey, lavender simple syrup, fernet branca, black walnut bitters
"BEST WHISKEY SOUR IN TOWN"  11
elijah craig bourbon, lemon, lime, simple syrup, egg white
BARREL-AGED BELLAVARDIER     11
larceny bourbon, carpano antica sweet vermouth, aperol, maple syrup
CHICKEN BOO    10
fighting cock bourbon, punt y mas sweet vermouth, tennessee cherry pepper simple syrup, creole bitters
SIMBA     10
evan williams black label bourbon, amaro di angostura, lime, black walnut bitters
MARGARET SCHROEDER     9
jameson whiskey, nikolaihof elderflower, lemon juice, simple syrup, cucumber
CRIXUS      11
monkey shoulder scotch, cherry heering, dolin rouge, oj
DEADLY TONIC     10
death's door gin, bonal, house-made tonic
TORTOISE THRONE      13
nolet's gin, campari, fernet branca, green chartreuse
SWEET HOT LOVIN'      11
the botanist gin, benedictine, grapefruit juice, honey syrup, jalapeno
SINGAPORE SLING     13
death's door gin, benedictine, cherry heering, pama pomegranate liquer, angostura bitters, triple sec, pineapple, lime
NECRONOMICON     12
mata hari absinthe, prosecco, crème de violette
THAI COCONUT COSMO     11
tito's handmade vodka, coconut milk, lemongrass syrup, habanero syrup, lime
S.C. SHANDY     9
southern comfort, rustic sunday saison, lemon, lime, triple sec, oj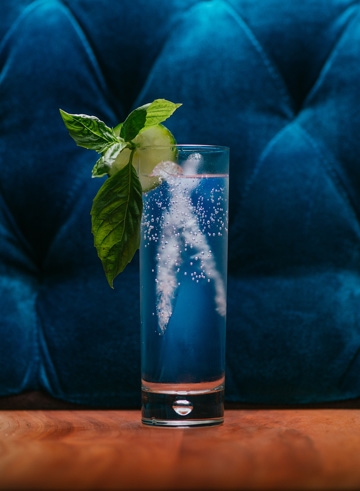 "Sometimes too much to drink is barely enough." – Mark Twain
Old favorites. New favorites. We've got a seat at the bar just waiting for you.
NOSE DIVE Seasonal Cocktails
TRUFFLED MARTINI   10
Tito's Hand-made Vodka, Dry Vermouth, House, Truffled Blue Cheese Olives
MYRTILLE APERITIF   8
Van Gogh Acai-Blueberry, Lemon, Sparkling Wine, Fresh Blueberries
"Awesometini   11
Ketel One, Pome-granate Cordial, Pineapple, Fresh Basil
Yappy Collins   7
New Amsterdam Gin, Jalapeno, Fresh Lemon Juice, simple.
ND Tequilla Sunrise Revival   8
Lunazul 100% Agave Tequila, Fresh sqeezed OJ, Pineapple, Pomegran-ate Liquor
NEGRONI   11
Hendrick's Gin, Campari, Sweet Vermouth, Orange
RIDE YOUR OWN MULE   9
Ginger Beer, Lime Juice, and your choice of Van Gogh Vodka: Peach, Pineapple, Raspberry, Acai Bluberry, Wild Ap-pel
The Voltron   9
Sierra Nevada Otra Vez, Van Goh Pineapple, Mint, Lime Juice, simple
NOSE DIVE Spirits
6&20 "OLD MONEY" 10
6&20 5-GRAIN BOURBON 10
DEFIANT 12
BLANTON'S 11.
JACK DANIELS 7.5
JIM BEAM 7
JIM BEAM BLACK 8
MAKER'S MARK 8
MAKERS 46 9
LARCENY 8
WOODFORD RESERVE 9.5
KNOB CREEK 10.5
BULLEIT 9.5
BOOKERS 14
BUFFALO TRACE 8
CROWN ROYAL 8
BULLEIT RYE 9.5
ALBERTA RYE 9.5
BELLE MEADE 10
TEMPLETON RYE 9
DEWARS 8
CHIVAS REGAL 10
GLENMORANGIE 10 10
GLENLIVET 12 10
MACALLAN 12 12
BALVENIE 12 11
LAGAVULIN 16 19
All whiskeys are 2oz pours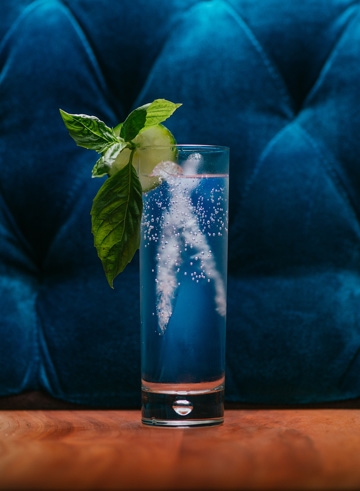 "Everybody's got to believe in something. I believe I'll have another beer." – W.C. Fields
"Handcrafted", "Microbrew", "High Gravity", "Regional", "Cult Favorite", "Small Batch". All terms that mean we've put a lot of time and effort into crafting our beer list with beers that we know you'll love. The list has some brews you've heard of and some you haven't—but will want to try.
We feature CRAFT BREWS highlighting seasonal and specialty offerings. Our DRAFT selections change daily, so ask your server or check out the board for today's choices and prices.
The draft list changes all the time, but this is a recent example. Come in and see what's on tap today.
*Please note that we update and change this offering frequently, so we've included the list above to give you an idea of what to expect when you visit the restaurant. No doubt you'll find new and interesting choices when you arrive.
"Good wine is a necessity of life for me." –Thomas Jefferson
Wine lovers have a place at the table as well – with a carefully constructed wine list filled with interesting selections and unique offerings.
Bubbles
CA FURLAN
Prosecco Veneto, Italy 8/30
Whites
CEDERBERG (2014) Bukketraube,
Citrusdal Mountain, South Africa     9/32
JOE DOBBES (2014) Pinot Gris
Williamete Valley, Oregon 8/30
SHELTON VINEYARDS (2013) Sauvignon Blanc
Yadkin Valley, North Carolina     7.5/29
RAYUN (2015) Sauvignon Blanc
Central Valley, Chile     7.5/29
HOOK & LADDER (2013) Chardonnay
Russian River Valley, California      11/40
RYME "HIS" (2012) Vermentino
Las Brisas Vineyard, California      68
LOVE BLOCK (2012) Sauvignon Blanc
Marlborough, New Zealand     45
ROBERT SINSKEY'S ABRAXAS (2011)
White Blend: R, PG, PB,G
Carneros, California   68
Reds
MAISON L. TRAMIER & FILS "RONCIER" (NV) Pinot Noir
Burgundy, France     8/30
STOLLER (2013) Pinot Noir
Williamette Valley, Oregon     13/48
THE SHOW (2013) Malbec
Mendoza, Argentina     10/36
SAWTOOTH (2011) Syrah
Snake River Valley, Idaho      9/32
MANIFESTO! (2014) Zinfandel
California     11/40
BENZIGER (2012) Cabernet Sauvignon
Sonoma County, California     14/52
HOOK & LADDER "THE TILLERMAN" (2012) Red Blend
Russian River Valley, California     11/40
RAPPAHANNOCK NOBLESSE (2013) Cabernet Sauvignon
Huntly, Virginia     9/32
BROC CELLARS (2014) Valdiguie
Solano County, California     55
WHITEHALL VINEYARDS (2011) Cabernet Franc
Charlottesville, Virginia     40
GUILD LOT #10 (2013) GSM Blend
Columbia Valley, Oregon     11/40
LIOCO LAGUNA (2012) Pinot Noir
Sonoma Coast, California     80
BOXWOOD TOPIARY (2010) Red Blend
Middleburg, Virginia     60
BOXWOOD ESTATE (2010) Bordeaux
Blend Middleburg, Virginia     65
RYME (2012) Cabernet Franc Alegria Vineyard,
Russian River Valley, California     60
BODEGAS ABANICO HAZANA TRADICION (2011)
Tempranillo Rioja, DOCa, Spain     40
CLENDENEN FAMILY VINEYARDS "THE PIP" (2008)
Nebbiolo Santa Maria, California     60
**vintages subject to change