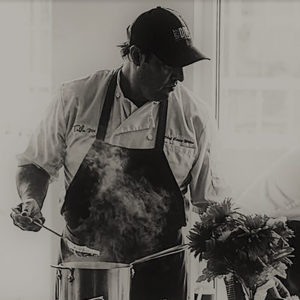 Born and raised in Charleston, WV, Eddie Wiles found a passion for food and cooking early in his teens with a family that was always cooking, pickling and gardening. It was not long before he found himself working in a kitchen throughout high school.
He spent his early college years at West Virginia University and Western State College in Colorado, working full-time in restaurants, hotels and country clubs. In 1993 Wiles decided to transfer to Johnson & Wales University in Charleston, SC where he studied Culinary Arts, Food Service Management, and also graduated Magna Cum Laude in Hotel/Restaurant Management. During his years at Johnson & Wales, Wiles worked at the Mills House Hotel as a Lead Line Cook, Sous Chef at the Vendue Inn, and a restaurant Sous Chef under Paul Whitwell at The Charleston Place Hotel.
In 1999, Wiles moved back to Colorado, accepting the Executive Chef position at Boulder's historic Greenbriar Inn. While in Boulder, he also served as an Adjunct Chef Instructor at the Cooking School of the Rockies, where he also conducted cooking demonstrations and classes.
Chef Wiles has also staged at Thomas Keller's 3 Michelin Star-rated restaurant, the French Laundry in Napa Valley.
Eddie served as Executive Chef for Holy City Hospitality's Southern concept restaurant, Virginia's on King before joining the Caviar & Bananas team in May of 2016 as the opening Executive Chef for the Greenville location.
In August 2017, Chef Wiles joined the Table 301 team as the Executive Chef at NOSE DIVE.
His time away from the kitchen is time spent with his family. He has always enjoyed the outdoors, from hiking, mountain and rock climbing, to beach days with his family while in Charleston, jogging and biking, and you can almost guarantee finding him on a disc golf course with his wife on his day off.
Save
Save
Save