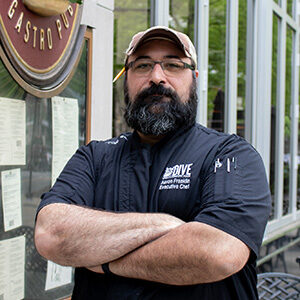 Aaron Franklin – Executive Chef
For Aaron Franklin, joining Table 301's Nose Dive restaurant as Executive Chef was like coming full circle. In 2011, Aaron was a member of the Nose Dive opening team and became the restaurant's first Sous Chef. He left after a couple of years to explore the culinary landscape in Greenville, landing at Roost as Chef de Cuisine and then later at Local Cue as Executive Chef before transitioning his way back to Nose Dive in 2021. Today, he oversees a culinary team of 20 members and is responsible for developing creative menus that appeal to the eye and guests' palates.
Born in Tucker, GA, and raised in Greenville, Aaron attended Wade Hampton High School and later the Culinary Institute of the Carolinas. He joined the Army in 2001 and spent 12 years serving the country with three deployments to Iraq and one to Afghanistan as a Field Artilleryman. During his service, Aaron earned multiple medals and awards for excellence, competence, and honor. He says that being in the Army sparked his interest in cooking. "I ate some interesting types of cuisines while deployed and also ate some of the worst food imaginable."
When not working, Aaron likes to spend time with his wife, Marne, and their two dogs, Truman and Carl. He's also a self-proclaimed bourbon lover and avid collector. He also loves to hit the road on his motorcycle.
Save
Save
Save